Source:
Chinese Hamster Ovary cell line
Protein Construction:
Recombinant Wnt/β-Catenin Ligand is a Fc-tagged recombinant protein that dimerizes Fz and Lrp5/6 and activates canonical Wnt/β-Catenin signaling. Protein Construction is confidential.
SPECIFICATIONS
Purity:
≥ 98%, by SDS-PAGE visualized with quantitative densitometry by Coomassie® Blue Staining.
Biological Activity:
Measured by its ability to induce TOPflash reporter activity in HEK293T human embryonic kidney cells. The ED50 for this effect is <50ng/mL. Measured its activity in organoid expansion assay using human liver ductal organoids.
Endotoxin Level:
<0.10 EU per 1 μg of the protein by the LAL method
Calculated Molecular Weight:
59.6 kDa
SDS-PAGE:
64.0 kDa, reducing condition
DATA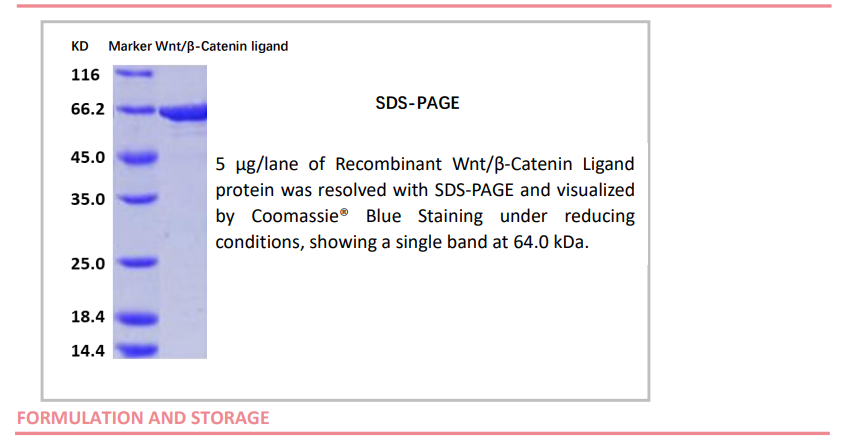 FORMULATION AND STORAGE
Formulation:
The product is Lyophilized from a 0.25 μm filtered solution in PBS.
Shipping:
The product is shipped on ice. Upon receipt, store it immediately as methods recommended below.
Reconstitution:
Reconstitute in sterile PBS buffer containing 0.1 % BSA to a concentration of 0.1-1.0 mg/mL.
Stability & Storage:
24 months, -20 to -70 °C, under powder state;
12 months, -20 to -70 °C, under sterile conditions after reconstitution;
2 month, 2 to 8 °C under sterile conditions after reconstitution;
avoid repeated freeze-thaw cycles.