Source:
Chinese Hamster Ovary cell line
Protein Construction:
A DNA sequence encoding the amino acids (Gln32-Ser728) of human HGF (Accession Number: P14210) was expressed.
Synonyms:
Hepatopoietin A; HGF; HGFB; HPTA; HPTAhepatocyte growth factor SPECIFICATIONS
Purity:
≥ 95%, by SDS-PAGE visualized with quantitative densitometry by Coomassie® Blue Staining.
Biological Activity:
Measured in CellTiter-Glo 3D Cell Viability Assay using human liver ductal organoids. The ED50 for this effect is 10-20 ng/ml.
Endotoxin Level:
<0.10 EU per 1 μg of the protein by the LAL method
Calculated Molecular Weight:
53.7 kDa ( alpha chain), 26 kDa ( beta chain)
SDS-PAGE:
60 kDa, and 33-34 kDa, reducing conditions
DATA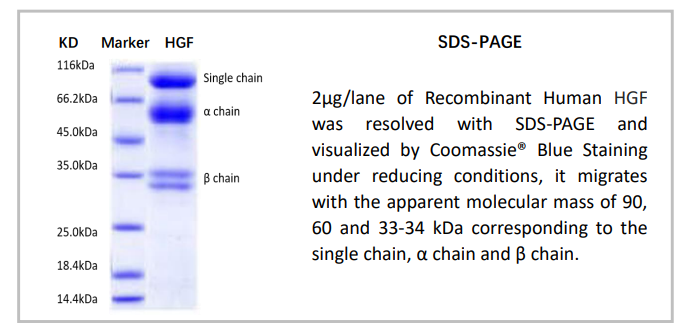 FORMULATION AND STORAGE
Formulation:
The product is lyophilized from a 0.22μm filtered solution in PBS.
Shipping:
The product is shipped on ice. Upon receipt, store it immediately as methods recommended below.
Reconstitution:
Reconstitute in sterile PBS buffer containing 0.1 % BSA to a concentration of 0.1-1.0 mg/mL.
Stability & Storage:
24 months, -20 to -70 °C, under powder state;
12 months, -20 to -70 °C, under sterile conditions after reconstitution;
2 month, 2 to 8 °C under sterile conditions after reconstitution;
avoid repeated freeze-thaw cycles.
References:
Gherardi, E., et al., Functional map and domain structure of MET, the product of the c-met protooncogene and receptor for hepatocyte growth factor/scatter factor. Proc Natl Acad Sci U S A, 2003. 100(21).
Mizuno, K., et al., Hairpin loop and second kringle domain are essential sites for heparin binding and biological activity of hepatocyte growth factor. J Biol Chem, 1994. 269(2).
Corso, S., P. Comoglio, and S. Giordano, Cancer therapy: can the challenge be MET? Trends in molecular medicine, 2005. 11(6).
Urbanek, K., et al., Cardiac stem cells possess growth factor-receptor systems that after activation regenerate the infarcted myocardium, improving ventricular function and long-term survival. Circ Res, 2005. 97(7).