Source:
Chinese Hamster Ovary cell line
Protein Construction:
A DNA sequence encoding the amino acids (Gln28-Cys232) of human Noggin (Accession Number: Q13253) was expressed.
Synonyms:
NOG; SYM1; symphalangism 1 (proximal); synostoses (multiple) syndrome 1; SYNS1; SYNS1A Purity:
≥ 95%, by SDS-PAGE visualized with quantitative densitometry by Coomassie® Blue Staining.
Biological Activity:
Measured by its ability to inhibit recombinant human BMP4-induced alkaline phosphatase production by ATDC5 mouse chondrogenic cells. The ED50 for this effect is typically 0.05-0.3 μg/ml in the presence of 50 ng/ml of recombinant human BMP4.
Endotoxin Level:
<0.10 EU per 1 μg of the protein by the LAL method
Calculated Molecular Weight:
25.1 kDa
SDS-PAGE:
30-36 kDa, reducing conditions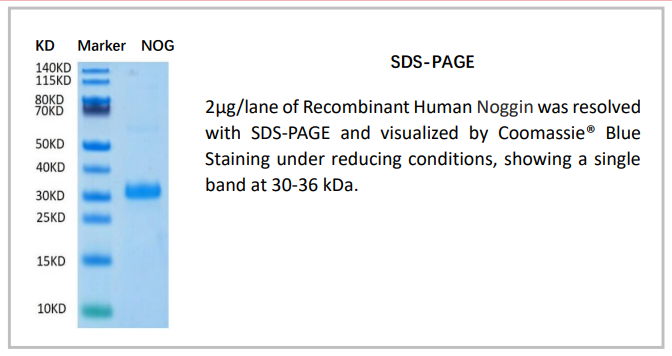 FORMULATION AND STORAGE
Formulation:
The product is Lyophilized from a 0.22 μm filtered solution in PBS.
Shipping:
The product is shipped on ice. Upon receipt, store it immediately at as methodsrecommended below.
Reconstitution:
Reconstitute in sterile PBS buffer containing 0.1 % BSA to a concentration of 0.1-1.0 mg/mL.
Stability & Storage:
24 months, -20 to -70 °C, under powder state;
12 months, -20 to -70 °C, under sterile conditions after reconstitution;
2 month, 2 to 8 °C under sterile conditions after reconstitution; avoid repeated freeze-thaw cycles.
References:
J, G., et al., Structural basis of BMP signalling inhibition by the cystine knot protein Noggin. Nature, 2002. 420(6916): p. 636-42.
Brunet, L.J., et al., Noggin, cartilage morphogenesis, and joint formation in the mammalian skeleton. Science, 1998. 280(5368): p. 1455-7.
Bonaguidi, M.A., et al., Noggin expands neural stem cells in the adult hippocampus. J Neurosci, 2008. 28(37): p. 9194-204.
Xu, R.H., et al., Basic FGF and suppression of BMP signaling sustain undifferentiated proliferation of human ES cells. Nat Methods, 2005. 2(3): p. 185-90.